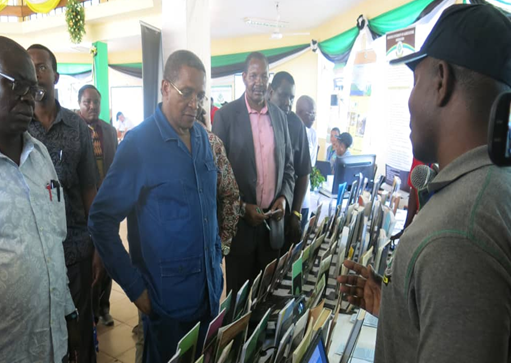 Former President of the united republic of Tanzania Hon. Jakaya Mrisho Kikwete (centre) get explanation about Mkulima Collection when visted Sokoine National Agricultural Library during Nane Nane Exhibition 2018 in Morogoro
The former president of the United Republic of Tanzania honourable Jakaya Mrisho Kikwete congratulated Sokoine National Agricultural Library SNAL management for coming up with the idea of establishing farmers centre of information called 'MKULIMA COLLECTION' in order to increase farmers knowledge on agricultural production.
The former boss said that during farmer's day known by many as Nane Nane day whereby for the Eastern Zone was held in Morogoro and included other regions like PWANI, TANGA and DAR ES SALAAM.
"Of course it is something very interesting, because one of the problems our farmers face while doing agricultural activities is lack of information, not only information but the right one, from the right people like Librarians. I think this collection will be helpful to our people and I congratulate you for this idea since the country is now reforming its economy to the industrial one", said the former president.
Also, former president recommended SNAL management to consider people living outside Morogoro who also may need to get information services from Mkulima Collection. He added that, instead of relying on internet only for those who are far away you may come with another simple way of reaching those living in remote areas with no power and other means of communication since many Tanzanians are living in Rural areas.
Dr. Kikwete also urged researchers to be ready to provide the findings of the research results to the information centres like Libraries in order to be disseminated to the clients who are mostly farmers and entrepreneurs.
The former president has shown the interest in agricultural activities by cultivating pineapple, maize and keeping animals at his village Msoga in Bagamoyo district since his retirement as the president of Tanzania. Also has been visiting Sokoine University of Agriculture frequently to seek the right information from the agricultural experts in order to improve his farming.
Mkulima collection is a new section under the department of Reference and Community services which started in 2016 as the continuation of the SNAL's vision which is to become a resourceful centre of excellence in providing library and information services in agriculture and other disciplines.
By Adam Maruma and Alex Bahame