Sokoine National Agricultural Library (SNAL) is expecting to conduct a two weeks orientation from 12th Nov to 25th Nov 2018 to the new and continuing students who are expecting to start their new academic year from 12th November 2018.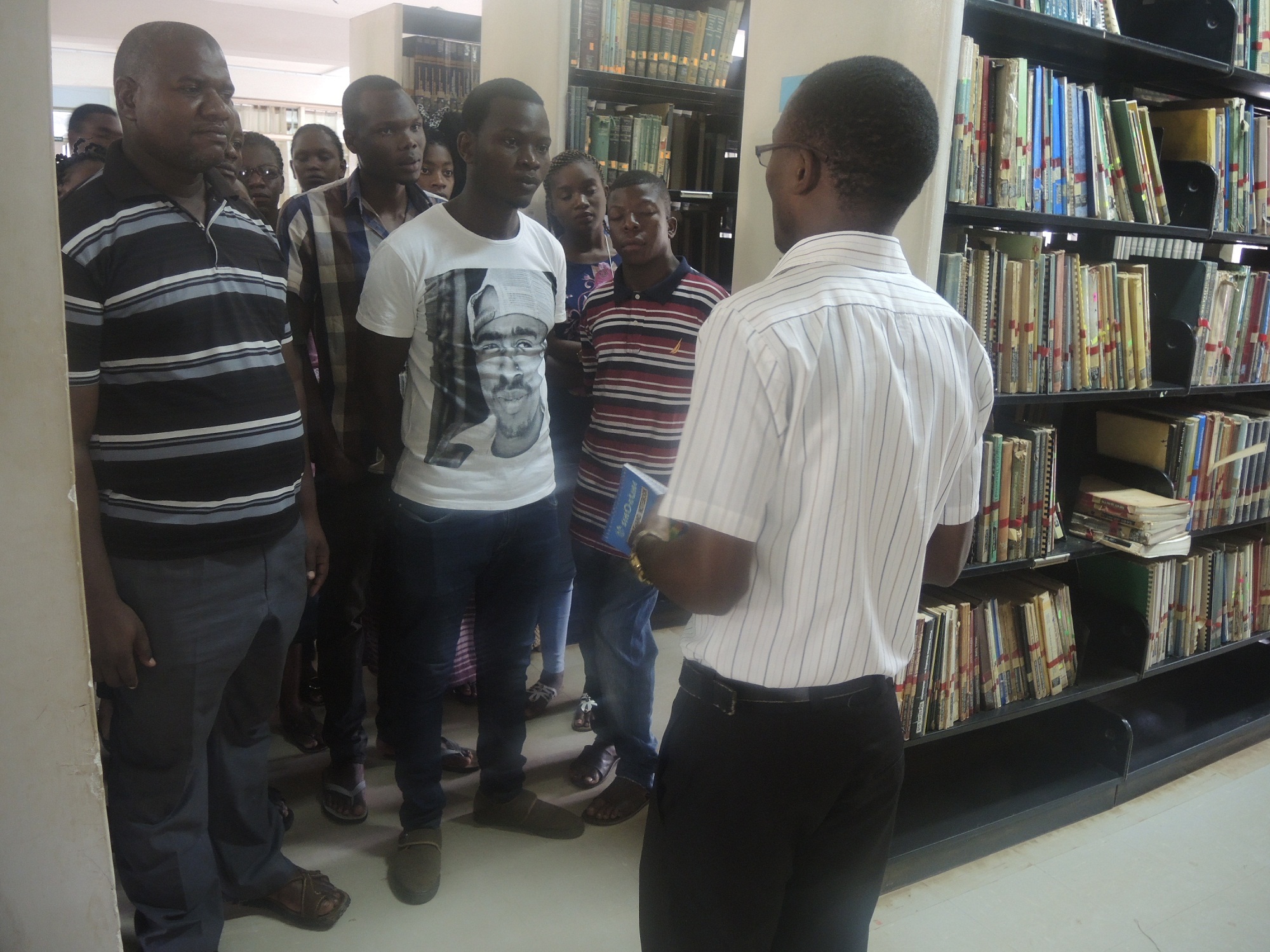 One of SNAL staff orienting new students
According to the SNAL management, the orientation of this year will include among other activities: the presentation, practical searching of different information, and introducing departments and their core function since SNAL has made some changes in its structural operation in order to improve the services to the clients.
Apart from introducing SNAL departments and their informational wealth, the aim of this year's orientation is also to increase the numbers of library users. The experience has shown that, some students are not aware of library services until when they start doing their Special Projects (SP) which need a student to make intensive reading hence start wondering in what is going on. Therefore, the orientation will increase students' awareness of the information resources and library services provided by SNAL.
One of SNAL staff orienting new students
Ms. Anajoyce Samuel Katabalwa who is the acting head of the Department of Reference and Community Information Services, said that, SNAL staff have made preparation in order to provide orientation which is intending to change students' mind set of thinking Library is only a book collection. The department of Reference and Community Information Services is the one responsible for circulation of information resources and services from both the library collections and Internet based resources, providing reference services which include response to users' queries, and many other activities including user studies, orientation and information literacy training.
Students are advised to participate in the orientation for the betterment of their academic life here at Sokoine University of Agriculture. This is because it helps students to know the information resources available for them both in print accessed through OPAC and electronic format which if used effectively increases academic performance. Also, students will be exposed to rules and regulations of the Library in order to avoid unnecessary disturbance for both students and Library staff.
SNAL also provides outreach activities and consultation to the SUA community and local people who are also part and parcel of the Library customers. SNAL has the Mkulima collection which is wealthier in different educational books written in simple Swahili language which is spoken by many Tanzanians especially local people who did not get a chance to attend high education.
SNAL's history dates back from 1964 as college Library for Morogoro college of Agriculture which was part of the University of Dar es Salaam. Since then, SNAL has been changing from time to time whereby it became a university library in 1984 and later became a national library for agriculture in Tanzania by the Act of parliament of 1991, and was consequently named Sokoine National Agricultural Library (SNAL). Therefore, the function of SNAL was increased from serving students to the mandate to carry out co-ordination and management of agricultural information in the country.
By Adam Maruma and Alex Alophonce