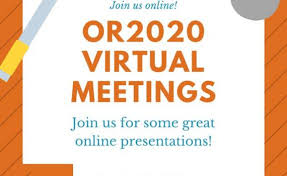 The Sokoine National Agricultural Library would like to inform you that there will be a Virtual Open Repository Meetings (OR2020) that will be held on June 1-4, 2020. The OR2020 meetings were organised to substitute the OR Conference. The OR2020 conference was primarily supposed to be held at Stellenbosch University in South Africa on the same dates but due to COVID-19 pandemic, it has been arranged to be done virtually.
One of SNAL staff, Mr Gilbert Mushi will be presenting at this conference on the title: Overcoming Language Barrier in Open Repositories: A case of Sokoine University of Agriculture. Mr Mushi is scheduled to present on Tuesday 2nd June 2020 and he is a second presenter. The presentations will start at 11:00am - 12:30pm UTC (14:00pm - 15:30pm Tanzania Time).
List of presentations on 2nd June 2020 are as follows:
The National Academic Digital Repository of Ethiopia – Technical, Policy and Governance Aspects – Roberto Barbera, Department of Physics and Astronomy "E. Majorana" of the University of Catania

Overcoming Language Barrier in Open Repositories: A case of Sokoine University of Agriculture – Gilbert Mushi, Sokoine University of Agriculture Library

Documenting the Ephemeral: Performance Archive and the Showcase Repository – Sanjin Muftic and Jayne Batzofin, The Reimagining Tragedy in Africa and the Global South (RETAGS) project at the University of Cape Town

Skills needs assessment for South African open access repository practitioners – Ansie van der Westhuizen, UNISA

Evaluation of institutional digital repository contents by postgraduate students of some selected tertiary institutions in Nigeria – Dr Michael Esew, Kashim Ibrahim Library, Ahmadu Bello University

Institutional repository adoption among Nigerian private universities: Institutional factors and willingness to use – Adetomiwa Basiru, Tekena Tamuno Library, Redeemer's University
You are kindly invited to register and attend this meeting. Registration is free! And also there will be a series of conversation on Twitter using the hashtag #OpenRepos2020. Participants are asked to register for each day and for each workshop they wish to attend.
Please register here: https://us02web.zoom.us/webinar/register/WN_QwQNn5NOSz6qfcjhwFaUdw
Best wishes